The Master Chief is a heavy pistol available to Riot Guard and Breacher. It features powerful shots and stability while moving.
The abbreviation for this weapon is 'MC.'
'Master Chief'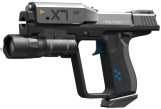 10 / 190
semi
damage
1.3x
heat / cool
1.00x / 1.00x
firerate
378
deviation
2
recoil / ctrl
52 / 108
R/E time
1.80s / 0.35s
perks
Critical First Shot
Movement Stabilized
Characteristics
[
]
Advantages:
First shot after reload is guaranteed critical hit
Good damage
More accurate while moving
Disadvantages:
Slightly lower capacity than other pistols
Low damage for a supposedly "heavy" pistol
Ammo
[
]
Pickup: 80
Ballistic soft Ammunition
Compatible Ammo

10mm Armor Piercing
10mm Soft Point
10mm Hollow Point
Perks
[
]
Critical First Shot

Guaranteed critical hit on the first shot in the magazine.

Movement Stabilized

Greater accuracy while moving
Notes/Tips
[
]
Focusing on firerate and magazine size can make this weapon really competitive even in later stages due to its high accuracy especially when used with "Caliber Reduction" attachment
Trivia
[
]
The Master Chief's design and name are a reference to the M6 Series Handgun of the Halo series. Despite the source material stating that the M6 Series shoots 12.7×40mm rounds, the weapon in Synthetik only shoots 10mm Auto rounds.