Damnation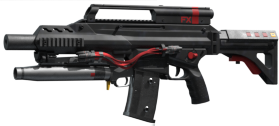 24 / 120
brst 3
damage
1.32
heat / cool
1.00x / 1.00x
firerate
756
brst delay
0.25s
deviation
5
recoil / ctrl
8 / 42
R/E time
2.50s / 0.45s
perks
Custom Ammo Supplier
Possessed Projectiles
The Damnation is a three-round burst assault rifle that launches a red homing bolt every fifth shot. It also grants hollow point ammunition to all compatible weapons.
In Arena, it can be purchased for Raider as a Series 5 weapon if the player has the Arena Premium Upgrade DLC.
The abbreviation for this weapon is 'DMN.'
Characteristics
[
]
Advantages:
Good firepower and accuracy
Good control/stability
Bursts are fired automatically without needing to click multiple times
Launches a blood bolt (exactly like the Item) every 5th shot

Damage scales with terrorlevel

Gives ammo with bleeding effect to every weapon that can use it.
Disadvantages:
Fairly high deviation
Slow reload cycle
Seekers are launched at random velocities, and have unpredictable trajectories
Ammo
[
]
Pickup: 70
Ballistic Soft Ammunition

5.57mm Hollow Point
5.57mm Kaida SC

Compatible Ammo

5.57mm Acid
5.57mm Armor Piercing
5.57mm Soft Point
Perks
[
]
Custom Ammo Supplier

Gives Hollow point ammo type for every weapon

Possessed Projectiles

Launches a blood bolt (exactly like the Item) every 5th shot
Notes/Tips
[
]
Counts as an Assault Rifle w/Launcher for Demolisher bonuses/Custom Fitting attachment.
As with all burst-fire guns, the Offload Cycler Ultra attachment removes burst delay and effectively makes the weapon full-auto.
Due to the relatively poor recoil control of the weapon, attachments that help mitigate spread/recoil will benefit the weapon greatly, such as the Digitalizer
Trivia
[
]
The redesigned Damnation appears to resemble the H&K G36C with something similar to an export version of the G36's Hensoldt 3x scope and a possibly integrated suppressor. The fact is that the G36 looks the same, but the other half-brother, the Mexican assault rifle FX-05
Prior to Update 15, the Damnation was a

Legendary

weapon that fired only homing bolts; either slow-moving but accurate M7 Halcyon Seekers, or high-velocity and somewhat inaccurate M6 Frantic Seekers. (Which are now unused.)