Enforcer Carbine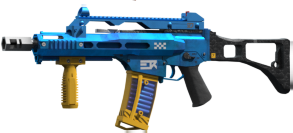 25 / 180
Auto
damage
0.9x
heat / cool
1.00x / 1.00x
firerate
687
deviation
8
recoil / ctrl
12 / 60
R/E time
1.40s / 0.45s
perks
Adaptive Recoil
100 Max Shield Bonus
The Enforcer Carbine is a fairly standard fusion assault rifle that shreds through enemy shielding, and grants the user 100 more max shield if it is in their inventory.
In Arena, it can be purchased for Raider and Heavy Gunner as a Series 3 weapon.
The abbreviation for this weapon is 'ENF.'
Characteristics
[
]
Advantages:
Good fire rate
Good max ammo reserve
Chance to fire a shot that counters recoil
Disadvantages:
Modest recoil control; recovers fairly slowly
High heat generation with prolonged firing
Burns through ammo quickly
Low overall damage per projectile; may struggle against armored enemies
Ammo
[
]
Perks
[
]
Adaptive Recoil

Kills have a 15% chance to grant 2 seconds of 100% recoil stabilization - affected by luck

100 Max Shield Bonus

Grants 100 max shield to the user if this weapon is in the player's possession
Notes/Tips
[
]
The weapon greatly improves upon obtaining the Offloader Cycler and Heat Vent attachments, greatly improving accuracy and reducing accumulated heat while improving ammo efficiency.
Trivia
[
]
The Enforcer Carbine is based off the H&K G36 and its carbine variants