Heavy Flak Cannon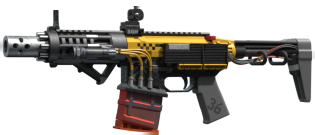 8 / 35
Semi
damage
1x
heat / cool
1.25x / 1.00x
firerate
315
deviation
3
recoil / ctrl
30 / 90
R/E time
1.80s / 0.40s
perks
7 Armor
The Heavy Flak Cannon is a specialized launcher with unique ammunition. It fires large clusters that explode in a very large area. It requires some distance to arm, and will not explode near the user.
In Arena, it can be purchased for Engineer as a Series 4 weapon.
The abbreviation for this weapon is 'FC.'
Characteristics
[
]
Advantages:
Effective against grouped and large enemies; can hit a single target multiple times
High accuracy
Disadvantages:
Rapid heat buildup
High recoil
Limited ammo supply
Projectiles detonate upon reaching a relatively limited max distance
Ammo
[
]
Perks
[
]
Grants 7 armor while in player's possession
Notes/Tips
[
]
Counts as both a Launcher and Special weapon for class bonuses
"Explosions" created by the projectiles cannot deal self-damage and do not grant HE-infusion ammo for the Demolisher.

However, when it lands a critical hit, it will create a spot for the seismic resonator to explode.
Do not put any penetration increasing attachments on the weapon since the projectiles explode on contact with enemy and it would render the weapon useless.
Trivia
[
]