LS Laser Sub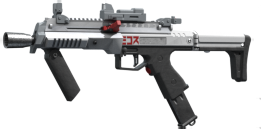 20 / 150
Auto
damage
0.75x
heat / cool
0.80x / 0.70x
firerate
525
deviation
8
recoil / ctrl
25 / 180
R/E time
1.35s / 0.75s
perks
1 Max Shield on Kill
Hi-Power Last Shot
Weak
Heat Firerate & Recoil (hidden)
The LS Laser Sub is a laser SMG. It has generally weak damage output, but gives the user +1 to max shield on getting a kill, stacking infinitely. This effect is multiplied by the current terror level. The last shot in a magazine deals 3x damage.
In Arena, it can be purchased for Breacher and Engineer as a Series 3 weapon.
The abbreviation for this weapon is 'LSMG.'
Characteristics
[
]
Advantages:
High control and fairly low recoil, relatively stable
Max shield gain
Good maximum ammo reserve
Increased effectiveness against armor
Fire rate increases with heat
Disadvantages:
Low magazine capacity
Poor damage output
High heat generation with prolonged firing
High deviation causes accuracy to quickly degrade with prolonged firing
Long ejection/reload cycle
Ammo
[
]
Perks
[
]
1-2 Max Shield on Kill

Every kill whilst held grants +(0.5 x difficulty%) max shield permanently, stacking infinitely. Persists even if the weapon is dropped. Kills do not need to be from the weapon itself

Hi-Power Last Shot

Last shot of the magazine deals 300% damage

Weak

The weapon's performance is subpar compared to others of its class. This is balanced out with one of the best perks in the game, permanent max shield gain

Heat Firerate & Recoil (hidden)

With higher heat the firerate increases and deviation is less affected
Notes/Tips
[
]
Despite the perk saying 1-2 Max Shield on Kill the perk only gives 1 and a shield popup should appear for every 20 shield gained
Unlocked at Lab level 7
Looking at the appearance, the motif was taken from the 'M7/Caseless Submachine gun' that appears in the Halo series.
Trivia
[
]