Last Breath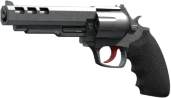 5 / 200
Semi
damage
1.6x
heat / cool
0.75x/1.00x
firerate
244
deviation
2
recoil / ctrl
55 / 114
R/E time
1.60s / 0.25s
perks
Critical Last Shot
Reliable - No Jamming
The Last Breath is a revolver that is available to all classes to start. Hits hard and slow, with a very small bullet capacity that never jams.
The abbreviation for this weapon is 'REV.'
Characteristics
[
]
Advantages:
High damage per shot
Guaranteed Critical on last shot
Doesn't jam
Disadvantages:
Very low capacity
Very slow rate of fire
Ammo
[
]
Pickup: 80
Ballistic soft Ammunition
Compatible Ammo

.44 Armor Piercing
.44 Soft Point
.44 Hollow Point
Perks
[
]
Critical Last Shot

The last shot in the magazine is a guaranteed critical strike, using critical strike damage

Reliable
Notes/Tips
[
]
Be careful around plated enemies as the low magazine capacity can prove troublesome.
Trivia
[
]