Object 29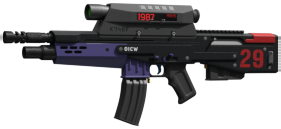 20 / 150
brst 2
damage
1.20x
heat / cool
1.00x / 1.00x
firerate
640
brst delay
0.25s
deviation
8
recoil / ctrl
20 / 150
R/E time
2.00s / 0.35s
perks
OICW Missile Launcher
75 Kills Upgrade
Object 29 is an odd fusion burst assault rifle with limited magazine capacity and a missile launcher. It can upgrade itself after 75 kills, increasing its overall performance.
In Arena, it can be purchased for Heavy Gunner as a Series 4 weapon.
The abbreviation for this weapon is 'OBJ.'
Characteristics
[
]
Advantages:
Fairly accurate and efficient 'doubletap' burst trigger
Holding fire button, bursts fire automatically
Good ammo reserve
Fires a missile every six shots
Stats improve after first 75 kills made while holding this weapon
Disadvantages:
Low fire rate and missile blast effect makes it hard to use effectively at close range
Missile can be inaccurate, may veer off-course
Ammo
[
]
Perks
[
]
OICW Missile Launcher

Fires a missile every 6 shots, scaling with weapon damage

75 Kills Upgrade

The perk gives:

+10% firerate
+10% damage
+10 ammo gained
-4 recoil
-1 Missile shots required
Notes/Tips
[
]
The attachment "Offload Cycler Ultra" turns this weapon almost fully automatic while "Hair Trigger" turns it semi automatic.
Trivia
[
]
Object 29 is based off the ill-fated and overcomplicated Objective Individual Combat Weapon project, which never left the prototype phase and largely failed in its overall goals, but did lead to several innovations that continue as independent weapon systems.