The PXS Covert Ops is a starting pistol available to Sniper and Assassin. It deals excellent damage at long range when paired with a Sniper's laser sight, and attracts less attention when firing.
The abbreviation for this weapon is 'PXS.'
PXS Covert Ops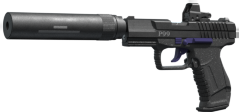 12 / 220
semi
damage
1.125x
heat / cool
1.00x/1.00x
firerate
315
deviation
1.5
recoil / ctrl
40 / 102
R/E time
1.90s / 0.25s
perks
Custom Suppressor
Reduced Detection Range
Characteristics
[
]
Advantages:
Average damage but more than G17 'Undercover'
Similar in performance to the P33 Compact
Lower detection range
Default ammo has a 7% chance to deal 50% extra damage
High accuracy
Disadvantages:
Slower rate of fire than the G17 'Undercover' and most other pistols
Lower magazine capacity; which less than the other Rogue exclusive pistol, the G17 'Undercover'
AMMO
[
]
Pickup: 85
Ballistic soft Ammunition
Compatible Ammo

10mm Soft Point
10mm Armor Piercing
10mm Hollow Point
10mm FMJ
Perks
[
]
Custom Suppressor
Reduced Detection Range

Weapon makes less noise, resulting in enemies having harder time noticing shots
Notes/Tips
[
]
With the laser sight, it can easily take down most humanoid targets with a single headshot, even at longer ranges.
Any magazine increase, such as wormhole mags or short magazine springs will help this weapon, as it has poor capacity. Firerate and damage increases will help as well, to offset the low DPS.
Trivia
[
]
This weapon is based off of Walther P99'